Artists featured:
Bill Haley, Carl Perkins, Buddy Holly, The Rolling Stones,
The Beatles, Elvis Presley, Ray Charles, The Shadows, Brian Hyland, Creedence Clearwater Revival
AND of course CHUCK BERRY
Chuck Berry is a legendary icon of popular music, a most enriching influential guitarist, poetic lyricist, and the undisputed father of Rock-n-Roll. A dynamic performer, the consummate entertainer, and an inspiration to many, many guitarists, Chuck Berry has been an integral element for popular music, and thus will remain in the realms of musical folk law.

No other artist within the Rock-n-Roll genre, has been so crucial in its development as Chuck. He moulded the rock guitar's voice for ever, and without him there would be no Beatles, Rolling Stones, Beach Boys, Bob Dylan and many others of that ilk. He created the definitive rock-n-roll guitar intro with Johnny B Goode. I'd warrant that every guitarist on the globe has had a bash at that lick! He catapulted that distinctive chunky, chunky rockabilly rhythm in to the mainstream where it is now the standard 4/4 rock-n-roll beat. He set the artistic standard of rock lyrics, and to quote Brian Wilson, "Chuck Berry wrote all the greatest songs and came up with all the rock-n-roll beats. Those who do not claim him as the seminal influence, or profess a liking for his music and showmanship show their ignorance of rock's development as well as his place as the music's first great creator. Elvis may have fuelled rock-n-roll's imagery, but Chuck Berry was its heartbeat and original mindset."

MP3 Downloads:
Corkscrew celebrated Chuck Berry's 80th birthday by staging a concert/dance, playing some of his dynamic works at the Allendale Centre, Hanham Road, Wimborne, Dorset, on October 14th 2006.
Pictures from the gig!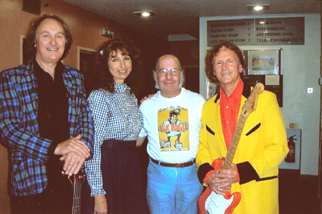 Corkscrew with Dave the Rave of 'UK Rock Magazine'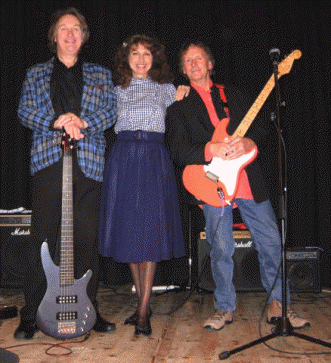 14th October 2006 Corkscrew Big Beat Night Gig
Corkscrew's Chuck Berry 80th birthday celebration at The Allendale Centre, Wimborne Dorset was a rock roaring success, and attracted a lively crowd of over one hundred dancers and Berry enthusiasts. Corkscrew's tight, slick programme included some of the master's greatest songs. Roger Downton's yellow and black velvet collared drape jacket and sixty's Cuban healed boots added authenticity and spice to the visuals. All the arrangements were fresh, faithful to the originals, and expertly played by the talented professional musicians of Corkscrew to the obvious delight of the discerning audience. The clever inclusion of an oral narration between songs added to the theatrical presentation, enlightening and reminding the audience of Chuck Berry's rightful place in the history and evolution of Rock 'n' Roll.
Closing the first half, entertaining guitar virtuoso, Roger Downton, performed a blazing version of the inimitable 'Johnny B Goode' with a mind blowing, extended, burning lead guitar solo in the true, 'cheeky' duck walking Chuck Berry fashion.
The rest of the evening was of the same, hot rocking caliber, delivering a fine tribute and worthy endorsement to the Father of Rock, Rhythm and Blues as couples jived inexhaustibly. Following Corkscrew's final number, they responded to the pleas for 'more' with that epitome of Chuck Berry music with a searing encore of 'Johnny B Goode'. Everyone left the venue positive, glowing in a warm film of perspiration, satisfied, and with all those gritty sounds still reverberating through their bodies and souls. Yes, that was true Rock 'n' Roll and an excellent Birthday Tribute.
'UK Rock Magazine' Review
It was Chuck Berry's 80th Birthday on the 18th of October 2006, and to celebrate a gig was held at the Allendale Centre in Wimborne Dorset organised by Corkscrew who also played. A rock 'n' roll workshop was held before live music commenced, with many people taking the opportunity to learn the steps not being R n R orientated before hand. Corkscrew who are a trio from nearby Poole were pleased to perform in front of a near full house. Their first set included Maybelline, Sweet Little Sixteen, and a storming Johnny B Goode with an excellent extended guitar break in the middle. During a short break, glasses were replenished before Corkscrew unplugged a string of Berry's classics with To Much Monkey Business, Oh Carol, Memphis Tennessee, Roll Over Beethoven, No Particular Place To Go, 30 Days, and Reelin' and Rocking'. With the new jivers enjoying their new found dance they didn't want to stop, but another blinding Johnny B Goode was it. Corkscrew are Roger Downton on guitar and vocals, his wife Sandra on keyboards and Dick Irish on Bass guitar.
Dave the Rave. 'UK Rock Magazine'.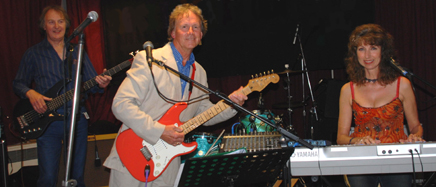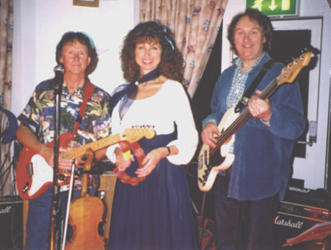 CORKSCREW
CELEBRATE
The Legendary Father of Rock n Roll
CHUCK BERRY'S
80th !! BIRTHDAY
at
The Allendale Centre
Hanham Road, Wimborne, Dorset
14th October 2006
Featuring Guitar Virtuoso
Roger Downton
Keyboard, Percussion
Sandra Downton
Bass
Dick Irish
Free Rock-n-Roll
Dance Workshop!

Evening Cabaret and Dance Setting
On Sale 'Corkscrew play Chuck Berry' CD
Doors open: 7.30pm Workshop: 7.45pm Concert: 9-10.45pm
Tickets £9.50 01202 740279 Box Office 01202 887247
Charity Donation to British Heart Foundation